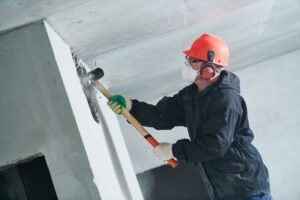 It's very difficult to locate a demolition company in Laval you can trust your project with considering that there are just so many of them out there. Will the company deliver the desired results, you are left wondering.
That said, when you locate us, Demo Prep Montreal, your search for leading demolition contractors in Laval ends since it's us who are the most capable team of experts. We bring you a wide range of services on the table from which you can choose the one that suits your needs perfectly. Our highly capable team is sure to deliver a successful project since it has the necessary expertise to perform every kind of demolition and renovation work.
We have delivered what's been expected of us consistently and have therefore, proved ourselves. It has made us one of the leading demolition services in Laval giving us a track record we are proud of. Our customers admire us for our dedication and commitment to providing them with quality service. Today, we have a loyal customer base in Laval and several other Canadian cities. No matter whether the project is big or small, we take it seriously and we always ensure complete customer satisfaction.
We are seen as reliable handyman contractors in Laval especially for the reasonable rates we quote. Since we offer a free estimate, you get a chance to gauge if you have been offered a good deal. If you have specific needs, we shall offer you customized service. When you are looking to demolish or renovate your house, we at Demo Prep Montreal are the right people to approach. Please contact us whenever convenient for a free consultation.
For top quality demolition services for your house, you can reach out to us at Demo Prep Montreal since we are a very capable team of experts. We possess years of experience and we remain committed to your satisfaction. We deliver projects on time, every time and make sure that we don't cross the fixed budget.
When you have planned to make modifications to your house, you must locate a capable demolition contractor. There are certain factors like the project size, the kind of services you need, and the experience of the contractor you need to take into account when choosing a demolition contractor. As a leading demolition contractor in Laval, we at Demo Prep Montreal have the necessary expertise to deliver desired results.
We meet all your demolition or renovation requirements. Apart from taking down fences, we also remove kitchens, bathrooms, floors, drywall, decks and do much more. It's this impressive variety in the services we offer that ensures we are counted among the leading demolition services in Laval.
Your safety and complete satisfaction are what we seek to ensure. When you have chosen us, Demo Prep Montreal, you know that you have zeroed in on a team possessing the necessary expertise. After we have taken up your project, just sit back and see how we complete it with efficiency and ensure timely delivery.
Please reach out to us on 514-613-8344 so you can know more about the services we offer. We shall be only too happy to answer your queries.
Send us an email by entering your details and any comments you may have in the form.