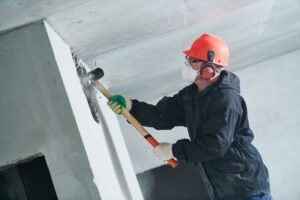 There are a hell lot of demolition companies in Le Sud-Ouest promising you the moon. You're at your wit's end looking for a demolition company in Le Sud-Ouest that can deliver what you expect from your project.
Don't you worry. Now that you've found us, Demo Prep Montreal, you have successfully located one of the most capable demolition companies in Le Sud-Ouest you can trust your project with. The years of experience we have gained make us capable of bringing you a wide range of services. We're confident that you'll find what you seek with us. With our expertise, we can deliver a wide range of demolition and restoration projects.
Others might promise you the moon. We don't since we don't need to. The projects we have delivered consistently for years have established us, Demo Prep Montreal as very dependable handyman contractors in Le Sud-Ouest. Another reason why our customers trust us is because we offer them a free estimate to help them decide whether our deal is a fair one. Your needs might be different from those of others. Don't let that worry you since we offer customized services as well. That makes us the perfect people to help you with the demolition or renovation of your house. Do call us for free consultations.
For demolition and renovation services of a superior quality, it's us at Demo Prep Montreal you should approach. The years of experience we have gained and the deep commitment we have towards your complete satisfaction make us a truly capable and trustworthy demolition company in the city. We have always ensured that we deliver projects on time so there are no cost overruns.
Being a homeowner, you must be able to zero in on a capable demolition contractor you can trust to deliver the goods. When you choose a contractor, you should consider the project size, the contractor's experience, and your specific needs. We at Demo Prep Montreal have a team of experts on board with us that puts us in a position to deliver every project successfully year after year with amazing consistency. No wonder we're considered one of the leading demolition contractors in Le Sud-Ouest.
Whether you're looking to take down fences or remove bathrooms, kitchens, floors, drywall, or decks, you can trust us with your job. We assure you, you won't be disappointed. With us at Demo Prep Montreal, you are sure to find all your home modification needs under one roof. The impressive variety we offer in our services makes us one of the leading demolition services in Le Sud-Ouest.
Our commitment to your total satisfaction runs deep through the entire Demo Prep Montreal setup. We are very careful about your safety and we make it a point to adhere to every rule in the book. Now that you've located us, you can sit back and relax and watch us give shape to your project. We would like to tell you more about what we have on offer. Do reach out to us on 514-613-8344.
Send us an email by entering your details and any comments you may have in the form.