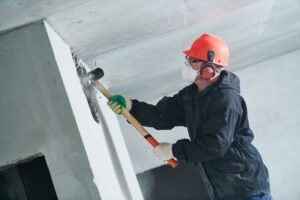 Now that you've decided to make modifications to your house, you'll have to locate a credible demolition company in Ahuntsic-Cartierville you can trust. It's a job that's easier said than done, what with the city crowded with demolition companies promising the moon.
When you choose to have us, Demo Prep Montreal by your side, your search for leading demolition contractors in Ahuntsic-Cartierville is over. We make no tall claims and we believe in keeping our commitment of delivering what you expect of us. With our capable team of experts, we offer you a range of services so wide, you're sure to find what you're looking for. We possess the necessary expertise to deliver the desired results without fail.
Our consistent success at delivering what our customers seek has earned us the reputation of being one of the most reliable demolition services in Ahuntsic-Cartierville. We have earned the admiration of one and all for the dedication that we put into our work. It finds manifestation in the excellent results we deliver. We have achieved amazing customer satisfaction, every time. It has helped us build a loyal customer base not just in Ahuntsic-Cartierville, but other Canadian cities as well. Whether the project's big or small, we never leave any of our customers unhappy.
We have successfully earned customer trust also because of the reasonable rates we quote. It has made us one of the most reliable handyman contractors in Ahuntsic-Cartierville. Our free estimates give our customers the chance to gauge if we are offering them a fair deal before they enter into an agreement with us. Your needs may also be unique. There's no need to worry since we offer customized services as well making sure that your specific needs are met. We at Demo Prep Montreal are the right people to approach for help when you're looking to renovate or demolish your house. Contact us for a free consultation any time.
You've got to take into account certain factors like the project size, the needs you have, and the experience the contractor has when you are looking for one since having a capable demolition contractor on board matters. You can reach out to us at Demo Prep Montreal since we have the required expertise. We never fail to deliver projects on time and make sure that we never exceed your budget. Our experience, the ability to handle projects of various kinds, and our dedication and commitment to every job make us one of the leading demolition contractors in Ahuntsic-Cartierville.
We take down fences and also remove floors, decks, drywall, kitchens, and bathrooms which make us pretty versatile. We are therefore, capable of meeting all your home demolition and renovation projects. It's this impressive portfolio of services we offer, our pride that makes sure that we are counted as one of the top demolition services in Ahuntsic-Cartierville.
We take your safety and satisfaction very seriously indeed. When you choose us, you know you've put a very capable team to work on your project. Do reach out to us on 514-613-8344 so we can tell you more about ourselves.
Envoyez-nous un e-mail en entrant vos coordonnées et vos commentaires éventuels dans le formulaire.