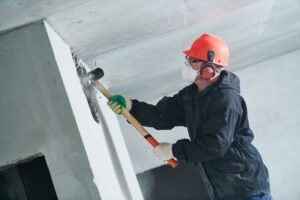 You need experts on board when you plan to renovate or demolish your house. It's pretty challenging locating a demolition company in Côte Saint-Luc you can truly trust from the crowd of such companies. You need to be absolutely sure that the company you choose does have experts in its team.
When you choose Demo Prep Montreal for your project, you go back home assured that you have picked a team that's an ace in demolition and renovation jobs. Yes, your search for leading demolition contractors in Côte Saint-Luc ends with us.
No, we make no tall claims. Why should we? After all, we have delivered numerous quality projects over the years that have impressed one and all. Before we start working on a project, we talk to the customer. It helps us know what his desires from the project are.  Once we get to know what's expected of us, we never disappoint.
We have delivered myriad projects over the years, both big and small. It has made us a one-stop-shop for all your home modification needs because of the variety of services we provide.
The variety in our work has given us an impressive portfolio that our competitors envy. We take every project seriously and we remain deeply committed to customer satisfaction. The quality of the work we deliver is much superior to that delivered by our competitors. We have therefore earned the admiration of one and all which has made us one of the top demolition services in Côte Saint-Luc. No wonder we have a large customer base in the city today and our good reputation spreads beyond it all across Canada.
Take into account what you need from the project, its size, and the experience the contractor has when choosing one. After all, you need experts who are capable of delivering what you seek without fail. When you choose Demo Prep Montreal, you put such experts who possess years of experience on the job. We have always made sure that we don't exceed the budget which comes as a rude jolt to the customer. We are also very particular about timely delivery of projects. We have therefore, built an impressive track record which has made us one of the top demolition contractors in Côte Saint-Luc. Our free estimates tell you if you have been offered a fair deal. That makes us a credible demolition company you can trust.
We excel in taking down fences, removing floors, bathrooms, kitchens, drywall, decks and there's much more we do as well. Having been in the industry for years, we offer a lot of variety in our services and hence, we are confident that we'll be able to deliver what you seek from your project, no matter how unique your needs may be. Our consistent success has established us as one of the leading demolition services in Côte Saint-Luc.
We remain deeply committed to your safety and thorough satisfaction. With Demo Prep Montreal by your side, you have very capable people working on your job. Once you choose us, it's time to sit back and relax and watch how we give shape to your project. Please reach out to us on 514-613-8344 so we can tell you more.
Send us an email by entering your details and any comments you may have in the form.