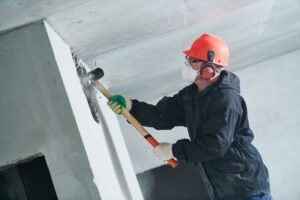 The city is flooded with demolition companies. It's a Herculean task locating a demolition company in Dorval you can hand over your project to.
Now that you have approached Demo Prep Montreal for help, your search for one of the leading demolition contractors in Dorval has ended.
You are sure to find what you need with us since we offer a wide range of services. Possessing the required skills and expertise, we have the capability to deliver renovation and demolition projects of multiple kinds.
We have delivered a lot of projects over the years with grand success. It gives our portfolio a superiority few others can hope to match. Our efforts have borne fruit and we are today counted as one of the leading demolition services in Dorval.
Our commitment to provide quality service to our customers runs deep within our organization. We are therefore admired by our legion of loyal customers in Dorval. Today, we boast of a large customer base in the city. No matter what the size of your project is, we remain committed to delivering the desired results.
We are seen as reliable handyman contractors in Dorval because of the very reasonable rates we quote. It has helped us earn customer trust. With our free estimate, you can know if we are offering you a good deal. We offer a lot of variety in our services which ensures that we are able to meet every need of yours, no matter how unique. Please reach out to the Demo Prep Montreal team for a free consultation whenever convenient. Rest assured, we arrange teams for demolition or renovation projects our customers can trust.
Therefore, it's us at Demo Prep Montreal you should approach for quality service. With our expertise, we deliver home renovation projects that sure are impressive. We have years of experience under our belt which helps us ensure your complete satisfaction. Having delivered projects on time over the years consistently, we make sure that the costs remain within the fixed budget.
It's vital that you locate capable demolition contractors when making modifications to your home. Your specific needs, the experience the contractor has, and the project size are what you should consider when searching for a demolition contractor. We have consistently delivered what customers have sought over the years. Since we have the required expertise to deliver satisfactory results, we are today counted as one of the top demolition services in Dorval.
You may have unique needs. Despite that, we at Demo Prep Montreal are always keen to deliver what you seek to your complete satisfaction. We take down fences and we also remove bathrooms, kitchens, floors, decks, and drywall which give us variety in what we offer. We therefore have an impressive portfolio we take pride in. It has made Demo Prep Montreal one of the leading demolition services in Dorval.
We are serious about your safety and satisfaction. Demo Prep Montreal, with its expertise is fully capable of delivering what you seek. Relax as we begin working and deliver an impressive project.
Feel free to make a call on 514-613-8344 so we can share more information about us with you.
Send us an email by entering your details and any comments you may have in the form.