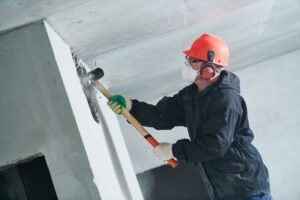 From the plethora of companies out there, we understand that it's a tough job to zero in on a capable demolition company in Hampstead you can trust your project with.
Your search for leading demolition contractors in Hampstead ends with us, Demo Prep Montreal. With our team of experienced and highly skilled team of professionals, we bring you a wide range of services for you to choose from—one that fits your needs perfectly.
We have the expertise needed to carry out both demolition and restoration projects of all kinds.
We have proved ourselves time and again delivering desired results in various projects. It has given us a track record we take pride in making us one of the leading demolition services in Hampstead. Our commitment and dedication to providing excellent service have earned us the admiration of our customers. It has helped us gain a loyal customer base. We take every project, big or small seriously and make it a point to ensure that you, the customer are satisfied with what we deliver.
Our competitive rates also set us apart from others and they have earned us a place as trustworthy handyman contractors in Hampstead. To know whether the deal we offer you is a good one, we arrange a free estimate. We shall happily offer you customized service catered to suit your specific needs. You have the perfect people to reach out to in Demo Prep Montreal when you are looking to demolish or renovate your house. Please get in touch with us so we can offer you a free consultation any time.
If you want to make sure that you receive top-of-the-notch demolition or renovation services for your house, you know you can reach out to us at Demo Prep Montreal. With years of experience under our belt and being completely dedicated to your satisfaction, we at Demo Prep Montreal ensure the successful timely completion of your project while staying within your budget.
Locating a capable demolition contractor as a homeowner is very important when you want to make modifications to your house. You need to consider factors like the size of the project, how experienced the contractor is, and what kind of demolition services you require before commencing with the project. Demo Prep Montreal, as leading demolition contractors in Hampstead has the experience and skills you desire to deliver your project successfully.
Demolition or renovation or any other building project, Demo Prep Montreal is the one-stop-shop that meets all your requirements. The renovation services we offer are of a wide range—taking down fences and removing bathrooms, kitchens, decks, drywall, floor and more. The variety in our services makes us leading demolition services in Hampstead.
We are deeply committed to your satisfaction and we always ensure your safety. When you choose us to handle your project, you know you have picked people with the necessary expertise. When we take up your project, you can just relax while watching us complete it efficiently.
To know more about our services, please call us on 514-613-8344. We shall be happy to answer any queries you have. We hope to hear from you soon.
Send us an email by entering your details and any comments you may have in the form.