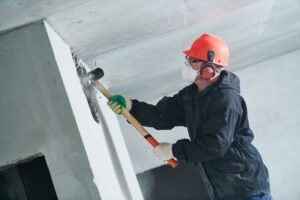 Yes, we understand, it can be very tough choosing the right demolition company in Hudson. There are just so many of them out there, you can't really decide whom to trust.
If you're on the lookout for leading demolition contractors in Hudson, your search ends with us at Demo Prep Montreal. Our highly skilled team of professional experts offers a wide range of services you can choose from. Be it demolition or renovation, we have the necessary expertise to carry out any job.
Our impressive track record of proven success makes us one of the leading demolition services in Hudson. We have earned the appreciation of all our customers for the total dedication we have towards the work we do and the results we deliver. We are proud of the results we deliver and we remain deeply committed to you being satisfied with what we have delivered.
Moreover, what sets us apart as credible handyman contractors in Hudson, are our competitive rates. What's more, we also arrange free estimates so you know that you have bagged yourself a good deal. You'll also find us by your side if you're looking for any personalized service. We would only be too happy to offer you services catered to meet your specific needs. You know now whom you should reach out to if you are looking to renovate or demolish your home. You can get in touch with us for a free consultation any time.
From the crowd of demolition contractors, choose us, Demo Prep Montreal if you want to be assured of being offered the best service. The years of experience we possess and the total dedication to customer satisfaction ensure that we deliver the desired results on time and within the budget you planned.
When you own a home and you seek to make modifications to it, it's very important that you locate the right demolition contractor. The project size, the types of demolition services you need, and the contractor's experience are factors that need to be looked into. As leading demolition contractors in Hudson, we possess the experience and the expertise to deliver the results you seek in your project.
For all your demolition, renovation, or building project needs, you now have a one-stop-shop, Demo Prep Montreal you can approach for the perfect solution. We offer a wide range of demolition and renovation services—kitchen removal, drywall removal, deck removal, taking down fences, floor removal, bathroom removal and a lot more. The variety of services we offer makes us one of the most prominent demolition services in Hudson.
Your complete satisfaction and safety are our top priority and we remain deeply committed to them. When you trust us with your project, you know that you have the right people with the necessary expertise handling it. So, it's time to just sit back and relax as you watch your project take shape and reach completion with remarkable efficiency and smoothness.
You can call us on 514-613-8344 if you are interested to know more about the services offered by Demo Prep Montreal. Our friendly staff will be more than happy to answer all your queries. We look forward to hearing from you.
Send us an email by entering your details and any comments you may have in the form.