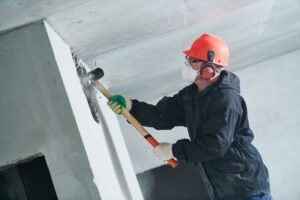 You need the right demolition company in Lasalle you can trust your project with.We realize that with so many companies to choose from, you are at your wit's end trying to locate one you can depend you.
Now that you have found us, Demo Prep Montreal, you need to look no farther. Your search for leading demolition contractors in Lasalle has ended with us. You are sure to find what you need from our wide range of services. Possessing the necessary expertise, we perform demolition and renovation projects of a wide variety.
We are proud of our impressive track record, something we have ensured by delivering projects successfully consistently over the years. It has established us as one of the leading demolition services in Lasalle. Our dedication and wholehearted commitment to providing superior services have ensured that we earn customer admiration. It has helped us build a loyal customer base. We take every project seriously, big or small and leave no room for complaints from our customers after we have delivered a project.
We quote very reasonable rates when negotiating for a project. It has helped us earn customer trust as reliable handyman contractors in Lasalle. You can be sure that you have a good deal since we offer free estimates. We also extend customized services that suit needs unique to a specific customer. You should reach out to us at Demo Prep Montreal since we are the perfect partners you could have when renovating or demolishing your house. Please reach out to us for a free consultation whenever convenient.
We at Demo Prep Montreal are the perfect people to approach with your home modification project if you want to be assured of quality service. We possess experience of many years and we take your complete satisfaction very seriously. We make every effort to ensure that your project is delivered on time while the expenses remain within the fixed budget.
You must be able to identify a capable demolition contractor when making modifications to your home. Your specific needs, the size of the project, and the experience the contractor has are factors you should consider when choosing a contractor. As leading demolition contractors in Lasalle, Demo Prep Montreal has the skills and the experience you would want for the successful completion of your project.
You may be demolishing your house or renovating it, or you may bring us any other project, we at Demo Prep Montreal ensure that we meet all your needs without fail. Taking down fences and bathroom, kitchen, drywall, floor, and deck removal services are what we offer. We therefore have an impressive portfolio with amazing variety in the jobs we carry out. It has helped us to be counted among the leading demolition services in Lasalle.
We take your safety and satisfaction with utmost seriousness. You know have zeroed in on the right people when you choose us. It's because we have the necessary experience and skills and our team is very capable indeed. We deliver your project efficiently ensuring that there's no room for complaints. Once you have handed us your project, you can simply sit back and relax.
We hope to talk to you soon. Call us on 514-613-8344 to know more about us.
Send us an email by entering your details and any comments you may have in the form.