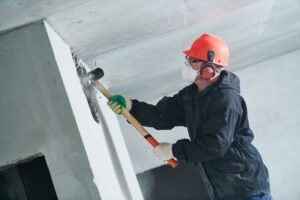 There's a whole crowd of demolition companies offering their services in our city. You have a job in your hands when trying to locate a demolition company in Mirabel whom you can trust and hand over your project to.
Now that you have found us, Demo Prep Montreal, your search has ended. You have reached one of the leading demolition contractors in Mirabel.
Our wide range of services is sure to include what you are looking for. With our expertise and skills, we perform demolition and renovation projects of various kinds.
We have delivered projects successfully over the years with impressive consistency that has given us an envious track record. We have therefore, established ourselves as one of the leading demolition services in Mirabel. It's our sincere commitment; dedication and determination about providing quality services that have earned us appreciation among customers in Mirabel. We boast of a loyal customer base today. No matter what the scale of the project is, we take it with utmost seriousness and make sure that there's no room for any complaints after the project is finished.
When we negotiate for a project, we quote very reasonable rates. This is why customers trust us as dependable handyman contractors in Mirabel. We offer free estimates so you can be sure that you have bagged a good deal for yourself. Some customers have unique needs. Therefore, we offer customized services as well. It makes us the perfect people to entrust your home renovation or demolition project with. You can reach out to us for a free consultation any time you feel like it.
If you are looking for superior home modification service, you should reach out to us at Demo Prep Montreal. We are very serious about your 100 percent satisfaction and the years of experience we have gained make us very capable demolition contractors in Mirabel. We put our best foot forward to ensure timely delivery of your project while ensuring that there are no cost overruns. We never cross the budget that has been fixed.
When you plan modifying your home, you must find yourself an able demolition contractor. When you are out to choose a contractor, the project size, the contractor's experience, and what needs you have are factors you should consider. Demo Prep Montreal has the necessary skills and expertise you seek in a demolition contractor for the success of your project. We are therefore counted as leading demolition contractors in Mirabel.
You may be demolishing or renovating your house, or your project may be a unique one, we at Demo Prep Montreal make it a point to cater to every need of yours. We take down fences and the other services we offer are kitchen, bathroom, drywall, floor, and deck removals. The impressive variety in the services we offer has given us a portfolio we take pride in. No wonder we are today counted among the leading demolition services in Mirabel.
Your safety and complete satisfaction matter a lot to us. When you choose us, you have the right people with the necessary skill sets working for you. We are confident that you shall have no room for complaints after we deliver your project. Just sit back and enjoy watching us work.
Reach out to us on 514-613-8344 so we can tell you more about us.
Send us an email by entering your details and any comments you may have in the form.