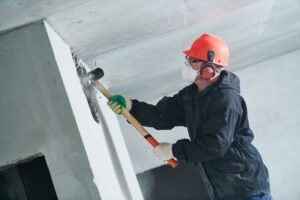 You have a challenging task to deal with when you are looking for the perfect demolition company in Outremont from the crowd of such companies in the city. After all, you can't hand your project to just about anyone, can you?
When you reach us, Demo Prep Montreal, your search for a reliable demolition company ends. The wide range of services we offer makes us one of the leading demolition contractors in Outremont.
We are sure that you'll find everything you need with us. We use our exceptional skill and expertise in delivering demolition and renovation projects of a wide variety.
Since we have delivered innumerable projects over the years with consistent success, we have an impressive track record. We are now firmly established as one of the leading demolition services in Outremont. Our zeal in extending superior service to all our customers has earned us their admiration in Outremont.
Today, we boast of a large customer base in the city that remains loyal to us. The project you bring us may be big or small, but we still remain committed to delivering excellent results for you that leave no room for any complaints.
The rates we quote have always been reasonable. That has helped us earn customer trust as reliable handyman contractors in Outremont. Our free estimate shall help you decide how good the deal we have offered is. Some of our customers approach us with unique needs. We extend customized services to them making sure that their needs are catered to as well. Demo Prep Montreal is your best bet for your home demolition or renovation project. Reach out to us any time you want to for a free consultation.
We are here with quality home modification services that deliver exactly what you seek. Demo Prep Montreal is very serious about your 100 percent satisfaction. The valuable experience we have gained by delivering projects through the years has made us top-of-the-notch demolition contractors in Outremont. We never exceed your budget and always make it a point to deliver your project on time.
When you plan to modify your house, it's very important that you find a demolition contractor with the right skill sets. When choosing a contractor, the experience they possess, the project size, and what needs you have are factors to consider. We at Demo Prep Montreal have all the necessary skills and expertise to deliver home modification projects with consistent success. It has earned us a place as one of the leading demolition contractors in Outremont.
You may approach us with a simple home renovation or demolition project or you may have unique needs, no matter what, we shall make sure you don't leave disappointed. Taking down fences, bathroom, kitchen, floor, drywall, and deck removals are the various services we offer. The variety in the services we offer makes our portfolio an impressive one, something we take pride in. It's one the factors that has made us one of the leading demolition services in Outremont.
Your safety and satisfaction are very important to us. Watch us get to work and deliver the project you always wanted. Do reach out to us on 514-613-8344 so we can tell you more about ourselves.
Send us an email by entering your details and any comments you may have in the form.