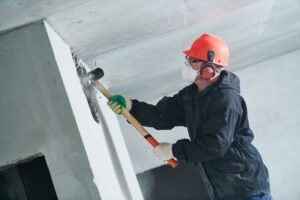 Are you looking for a demolition company in Pincourt you can trust your project with? It sure is pretty tough doing so. After all, there are so many of them in our city.
Having found us, Demo Prep Montreal, you need to look no farther. Your search for one of the top demolition companies in Pincourt has come to an end. We offer a variety of services.
Therefore, you are sure to find something that meets your needs with us. Having gained valuable experience over the years, we at Demo Prep Montreal have the required expertise for delivering renovation and demolition projects of many kinds.
The projects we have delivered consistently for years speak volumes of our credibility. We therefore have a portfolio that's the envy of our competitors. Our honest efforts have put us where we are and today, we are seen as one of the most prominent demolition services in Pincourt. Every member in our team is deeply committed to providing our customers quality service. It has helped us earn the admiration of our customers in the city of Pincourt. We are deeply committed to deliver satisfactory results to all our customers irrespective of the size of their projects.
The rates we quote have always been very reasonable. That's a big reason why we are seen as reliable handyman contractors in Pincourt by the people here. We also offer free estimates. They help you decide whether the deal we have offered you is a good one or not. It leaves no room for doubts about our trustworthiness. Your needs may be unique. The sheer variety in our services ensures that no matter how unique your needs are, we are able to meet them. You can reach us for a free consultation any time you want to. We shall arrange a team for your project you can trust.
If you are keen to receive quality demolition service, it's Demo Prep Montreal you should trust. Our expertise in demolition projects makes us capable of delivering projects that are sure to impress you. When you choose us, you guarantee yourself a successful home renovation project. We have delivered numerous projects successfully over the years and we make it a point not to overshoot the budget.
Finding capable demolition contractors when modifying your home is vital. When you look for a demolition contractor, the project size, what you need specifically, and how experienced the contractor is are factors you should consider. We have been delivering what our customers have expected from us consistently for years. Possessing the necessary expertise to successfully deliver desired results, we are now firmly established as one of the leading demolition services in Pincourt.
Your needs may be unique. That won't deter us from delivering what you seek successfully. Demo Prep Montreal takes down fences and removes bathrooms, floors, kitchens, decks, and drywall. That adds a lot of variety in what we bring to the table. It gives us an impressive portfolio we are proud of. No wonder we are counted as one of the top demolition services in Pincourt.
Demo Prep Montreal is very particular about your safety and satisfaction. We deliver what you seek. Relax as we are sure to deliver an impressive project. Reach out to us on 514-613-8344 to hear more about us.
Send us an email by entering your details and any comments you may have in the form.