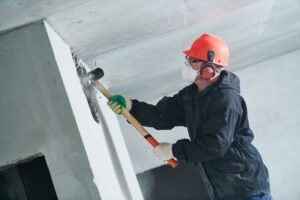 Our city has a plethora of demolition companies promising you the moon. It's therefore, a very tough job trying to find a demolition company in Saint-Lambert you can truly trust.
We make no tall claims for we remain confident in the belief that our impressive record of having delivered a wide variety of projects successfully shall convince you of our credibility. The superior quality of our projects tells you that we are indeed genuine. Therefore, your search for leading demolition contractors in Saint-Lambert has ended since you have found us, Demo Prep Montreal. You are sure to find what you need from our wide range of services. We have delivered demolition and renovation projects successfully for years since we have what it takes.
We have proved ourselves since we have always delivered what we have committed. Our impressive track record is the envy of our competitors and we are today one of the leading demolition services in Saint-Lambert. The dedication and commitment we work with have earned us the admiration of our customers. Today, we have a large base of customers loyal to us in Saint-Lambert and cities across Canada. We take even small projects seriously and ensure that we never fail to deliver what's been expected of us.
Our reasonable rates have earned us a reputation of being reliable handyman contractors in Saint-Lambert. We are trusted by our customers and those who approach us with projects. We offer free estimates. Therefore, our customers can judge whether the deal we have on offer is good or not. Our customized services ensure that we are able to cater to every need of our customers, no matter how unique. Therefore, we say confidently that we are the ideal people to approach for making modifications to your house. Do call us for a free consultation.
We have a team of highly skilled experts on board with us at Demo Prep Montreal. Therefore, we are the ones to approach for quality demolition work. We take your satisfaction very seriously. Our years of experience have given us the expertise to deliver projects on time making sure that there are no cost overruns.
When you are planning to make modifications to your house, choosing the right demolition contractor is a must. Factors like the size of the project, the experience of the contractor and your specific needs should be considered when choosing one. We at Demo Prep Montreal are counted as a leading demolition contractor in Saint-Lambert since we possess the required expertise and experience.
No matter what your requirement, we are ready with a solution. Apart from taking down fences, we are also into floor, kitchen, bedroom, drywall, and deck removals and much more. This variety in our services makes us one of the leading demolition services in Saint-Lambert.
Your safety and complete satisfaction are of utmost importance to us. Demo Prep Montreal arranges a team with the perfect skills to handle your home modification project. Now that you have picked us, just sit back and watch us go about our job with remarkable efficiency. Do call us on 514-613-8344 to know more.
Send us an email by entering your details and any comments you may have in the form.