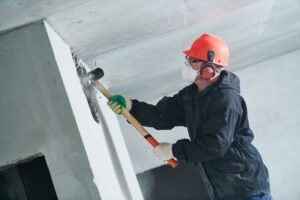 It's a daunting task finding a demolition company in Saint-Leonard you can trust your project with among the many that claim to deliver quality of work superior to all the others.
You won't see us making any tall claims. Our impressive track record of having delivered a variety of projects of superior quality successfully is sure to convince you that we are the ones for your job. You have found us, Demo Prep Montreal. Your search for leading demolition contractors in Saint-Leonard has therefore come to an end. Our wide range of services is sure to include what you seek. We have it in us to deliver demolition and renovation projects successfully year after year.
Having consistently delivered what we have committed to, we have proved ourselves. Our impressive track record puts us a step ahead of the competition and we are now counted as one of the leading demolition services in Saint-Leonard. Our customers admire us for the dedication and commitment we work with. Today, Demo Prep Montreal has a large customer base in Saint-Leonard thoroughly satisfied with its services. Even small projects matter to us and we never fail to deliver the desired results.
Since our rates have always been reasonable, we are seen as reliable handyman contractors in Saint-Leonard. Our customers and those who approach us for help trust us. Our free estimates let the customers decide if our deal is good for them. You may have unique needs. With our customized services, we shall cater to them as well. It gives us the confidence to say that we are the ideal people to approach with your home modification project. We offer free consultations. Do call us.
Demo Prep Montreal works with teams of highly skilled professionals. We take your satisfaction very seriously and hence, you shall never be disappointed with what we shall deliver. Possessing years of experience, we always deliver projects on time making sure that we don't exceed the budget fixed by the customer.
You need to locate capable demolition contractors when making modifications to your house. You should take into account factors like the size of your project, the needs you have, and the experience the contractor has when you choose one. Demo Prep Montreal has the expertise and experience needed and hence, we are now a leading demolition contractor in Saint-Leonard.
We have a solution for every requirement of yours. We take down fences, remove floors, kitchens, bathrooms, drywall, decks, and also do many other jobs. The variety we offer in our services has earned us a place as one of the leading demolition services in Saint-Leonard.
We are very serious about your safety and we seek your complete satisfaction. We at Demo Prep Montreal have a team of highly skilled professionals working on every project delivering impressive results. Having put us on the job, it's time to sit back and relax and watch how your project comes up bit by bit. We are always reachable on 514-613-8344 for all your queries. Do reach out to us. We would love to tell you more about what we do.
Send us an email by entering your details and any comments you may have in the form.