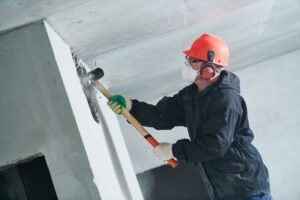 Isn't it exasperating looking for a dependable demolition company in L'Île-Bizard among the crowd of such companies in the city? We understand what a major headache it can be for you.
You can't really decide who you should trust with your project. You want to be sure that you are delivered the results you expect. We at Demo Prep Montreal are the ones who can help you with your problems. We offer a wide range of services and hence, we're sure we'll be able to meet your needs. The expertise and skill our team possesses makes us capable of delivering every kind of demolition and renovation project. That has established us one the major demolition companies in L'Île-Bizard you can trust.
There are many demolition companies that promise a lot, but when it comes to delivering the project successfully, they fail miserably. Every project we have delivered over all these years has met the expectations of the customer. Not once have we left anyone disappointed with what we've delivered. Our customer satisfaction record is therefore the envy of our competitors. No wonder we're seen as very reliable handyman contractors in L'Île-Bizard. We always offer our customer a free estimate before taking up the project giving them the opportunity to judge how good our deal is. That's another reason why people trust us.
What you seek from your project may be quite different from the usual. There's no need to worry as we offer customized services as well meant to cater to your specific needs. Demo Prep Montreal, with its team of skillful and experienced experts certainly is the company to approach when you're looking to make modifications to your home. We are the one-stop-shop for all your demolition and renovation needs.
You might need to take down fences or remove floors, bathrooms, kitchens, drywall, or decks, we do it all. The sheer variety in our services has ensured that we are counted among the leading demolition contractors in L'Île-Bizard. Our experienced team delivers exactly what you seek. We at Demo Prep Montreal certainly are the perfect partners to have in demolishing or renovating your home.
When deciding on a contractor, you should consider their experience, your needs, and the project size. We meet all the parameters that make us a very capable demolition company. We certainly are one of the major demolition services in L'Île-Bizard. Another reason why our customers have trusted us over the years is the fact that we have always delivered our projects on time. Not even once have we exceeded the budget. We are eager to offer you a free consultation. Do reach out to us.
We always remain very particular about your safety and hence, we strictly follow every rule laid down by the authorities. The commitment we have to your hundred percent satisfaction is unshakable and you are sure to be pleased with what we deliver. We understand and value what your project means to you and we take it very seriously. Do call us on 514-613-8344 so we can tell you more about us.
Send us an email by entering your details and any comments you may have in the form.