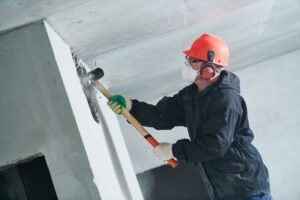 There are numerous demolition companies spread across Longueuil. Therefore, deciding which demolition company in Longueuil you can depend on to deliver what you want from your project becomes no more than mere guessing. You can only rely on your gut feeling and hence, locating a capable demolition company becomes a matter of chance.
With us at Demo Prep Montreal, you can be sure that are taking no chances. As one of the most capable and reliable demolition companies in Longueuil, we assure you that you can trust us with your project. We have never disappointed any of our customers and you can be sure that we'll not just meet your expectations, we'll exceed them. We're confident that when we finish working on your project, you'll be delighted with the results.
We offer a wide variety of services which makes sure that you'll find us meeting every home modification need of yours. We take down fences and remove floors, bathrooms, kitchens, drywall, and decks and we do much more as well. Since we are capable of meeting all your needs, we are truly a one-stop-shop for home modification projects. That makes us leading handyman contractors in Longueuil.
Unlike many other demolition companies, we make no tall claims since we don't need to. The many projects we have delivered successfully over the years stand testimony to our reliability. We take every project seriously, big or small. Our consistency at delivering projects successfully over the years has made sure that we have made every customer thoroughly satisfied with our performance. In fact, we are second to none when it comes to customer satisfaction. No wonder we're one of the most prominent demolition contractors in Longueuil.
Our customers have always trusted us. It's because we have always offered them free estimates to help them judge if our deal is good enough. Again, we have never delayed any project which has ensured that we make no cost overruns. We have never exceeded the budget decided by the customer. Our customized services make sure that we meet every project need of yours, no matter how unique. Therefore, we say with confidence that we are the ones for you when it comes to home demolition services in Longueuil.
You have to consider factors like the project size, the years of experience the contractor possesses, and what needs you have when you are choosing one. We at Demo Prep Montreal have gained years of experience and that has given us the skills necessary to execute home modification projects successfully. We are sure that our team of experts shall be able to deliver what you seek from your project. We have never let anyone down and we won't let you down either.
We take your safety very seriously and therefore, we are very particular about adhering to all the stipulations laid down by the authorities. Once you've handed over your project to us, you can simply sit back, relax and admire the efficiency we work with. We are keen to tell you more about us. Do reach out to us on 514-613-8344.
Send us an email by entering your details and any comments you may have in the form.