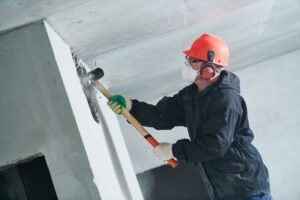 Montreal's a big city. There are innumerable demolition companies out there and hence, choosing the right demolition company in Montreal that can be trusted with your project is quite a task.
Your search for one of the reputable demolition contractors in Montreal ends once you locate us—Demo Prep Montreal. There's a wide range of services offered by our team of experts that you can take your pick from. We have the necessary expertise to carry out both demolition and renovation projects.
We have an impressive track record of delivering projects successfully that has made us one of the leading demolition services in Montreal. Our customers have always admired us for the dedication and commitment we put into every project and the amazing results we deliver. We are proud of the superior quality we deliver in every project we take up that has made us a demolition company to reckon with in Montreal.
We have earned the trust of customers as credible handyman contractors in Montreal due to the reasonable rates we charge when taking up a project. The free estimates we offer tell you whether our deal is a good one or not. If you have unique needs, we shall cater to them as well extending personalized service. With us around, you know whom to reach out to when renovating or demolishing your house. Call us any time so we can share a free consultation with you.
Look no farther and choose us, Demo Prep Montreal if you want to be assured of superior service. The experience we have gained through the years and our deep commitment to customer satisfaction make sure that we deliver what's expected of us on time never exceeding the planned budget.
You must locate a capable demolition contractor when you are planning to make modifications to your house. What the size of the project is, how experienced the contractor is, and what your needs are should be the factors to consider when you pick a demolition contractor. Being one of the leading demolition contractors in Montreal, we possess the expertise and experience needed to deliver what you aspire for in your project.
Demo Prep Montreal is the one-stop-shop you have always wanted for all your demolition, renovation, or other building project needs. You have a wide range of services to choose from—floor, drywall, kitchen, deck removals, taking down fences and much more. It's the sheer variety in our services that has given us a very impressive portfolio making us one the most prominent demolition services in Montreal.
Your safety and complete satisfaction mean a lot to us and every member in our team at Demo Prep Montreal remains deeply committed to them. You know you have handed over your project to a capable demolition company when you choose us since we possess the necessary expertise. Sit back and relax as we work on your project and deliver the results you desire.
Do reach out to us on 514-613-8344 so we can share more information about us with you. We hope to hear from you soon.
Send us an email by entering your details and any comments you may have in the form.