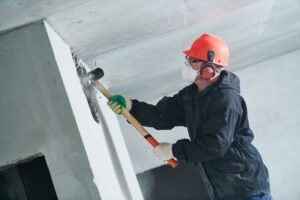 With numerous demolition companies dotting Notre-Dame-de-Grâce, locating one that you can trust your home modification project with sure is challenging. You can do no more than only rely on your gut feeling when choosing a reliable demolition company in Notre-Dame-de-Grâce.
When you choose us, Demo Prep Montreal, you no longer leave things to chance. We have been in the industry for years and that has given us the expertise to deliver what our customers seek from us. We have never failed our customers and we have always succeeded in meeting their expectations. It has established us as one of the most prominent demolition companies in Notre-Dame-de-Grâce. We have never left any room for complaints and hence, we have a large base of loyal customers not just in Notre-Dame-de-Grâce, but all of Canada.
We're confident of meeting every home modification need of yours. It's because of the sheer variety you'll find in our services. Apart from taking down fences, we remove floors, bathrooms, decks, drywall, and kitchens and we do a lot more as well. Yes, we truly are a one-stop-shop that caters to every home demolition or renovation need that you may have. No wonder we are counted among the leading handyman contractors in Notre-Dame-de-Grâce.
Instead of making tall claims, we let the projects we have delivered successfully over the years do the talking. The success we have achieved has helped us earn credibility that makes customers trust us. Irrespective of its size, we take every project we take over with utmost seriousness. Since we deliver quality projects, we have never left any of our customers disappointed. Hence, we have a very impressive track record of customer satisfaction, something we take a lot of pride in. We are the ones behind many happy homes in Notre-Dame-de-Grâce as we have given them an impressive facelift. It has ensured that we're counted as one if the leading demolition contractors in Notre-Dame-de-Grâce.
There's another major reason why we have earned customer trust. We always offer them a free estimate before we start so they can know if we're offering them a fair deal. Moreover, we ensure that we never exceed the budget fixed by the customer always delivering projects on time. With us on board, you can be sure that there won't be any cost overruns. Your needs may be pretty unique. That won't deter us since we offer customized services as well. We believe in us when we say that we are the ones to choose when you're looking for quality demolition services in Notre-Dame-de-Grâce.
Take into consideration the project size, your needs, and the contractor's experience when you're choosing one. Our team of skilled professionals that possesses the necessary expertise makes us the ideal choice for your home demolition or renovation. We are confident that we'll successfully deliver what you expect from the project. Trust us, we won't disappoint you. Once you choose us, rest assured, we'll not just meet your expectations, we'll exceed them. Do reach out to us on 514-613-8344 for a free consultation any time. We'll be more than happy to answer all your queries.
Send us an email by entering your details and any comments you may have in the form.