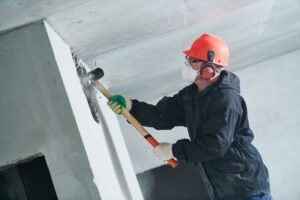 Yes indeed, the city is crowded with such companies and it's quite a task looking for a demolition company in Pierrefonds-Roxboro that you can trust. You can only rely on your gut feeling when you finally choose one.
When you choose Demo Prep Montreal, you have finished your search for leading demolition contractors in Pierrefonds-Roxboro. With us on board, you are leaving nothing to chance. We possess years of experience and therefore, we have the necessary expertise to deliver what you seek from your project. We have it in us to deliver home modification projects of myriad kinds.
The variety in the projects we've delivered has given us an impressive portfolio we take pride in and our competitors envy. Apart from taking down fences, we do bathroom, kitchen, deck, drywall, and floor removals as well. We also do a lot more. It's this amazing variety of services we offer which ensures that we're able to meet every home demolition or renovation need of yours. We are truly your one-stop-shop for all your home modification requirements. We are therefore counted as one of the top demolition services in Pierrefonds-Roxboro today.
No matter whether the project is big or small, we take it very seriously. That's one of the reasons that have helped us carve out a place as reliable handyman contractors in Pierrefonds-Roxboro. Again, we offer our customers a free estimate before they sign the contract. It helps them reflect on how good the deal is. Moreover, we have never exceeded the budget fixed by our customers since we have never delayed the delivery of projects. Besides, we are always very reasonable with the rates we quote.
We at Demo Prep Montreal always strive to exceed your expectations, not just meet them. That makes us very particular about ensuring superior quality in our work. Our record of customer satisfaction is second to none. We leave no stone unturned to ensure that we make every customer of ours thoroughly happy with our services. No wonder we have a large base of loyal customers today not just in Pierrefonds-Roxboro, but entire Canada. That certainly makes us one of the top demolition companies in Pierrefonds-Roxboro.
You need an expert demolition contractor when you are looking to make alterations to your house. You need to be mindful of what your needs are, what the project size is, and how many years of experience the contractor you are considering has. Demo Prep Montreal has been in the industry very long and with our team of very experienced and skilled professionals, we have never failed to deliver. Not once have we left any customer of ours unhappy with our work.
Our commitment to your security runs deep within the organization. Therefore, we make it a point to adhere to all the stipulations laid down by the authorities. All your worries are gone after we take over your project. You can just sit back and enjoy watching how smoothly we execute it. Trust us, you'll be glad you chose Demo Prep Montreal. Do call us on 514-613-8344 to know more about us.
Send us an email by entering your details and any comments you may have in the form.