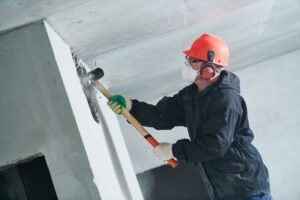 Hitting upon a demolition company in Saint-Jérôme you can trust your home modification project with is completely a matter of chance. You've just got to keep your fingers crossed and hope that things fall in place.
Choosing us, Demo Prep Montreal means that you are leaving nothing to chance. Your search for leading demolition contractors in Saint-Jérôme ends once you entrust us with your job. We have been in the industry for years and that gives us the expertise needed to deliver projects successfully to the satisfaction of our customers. We have the skills necessary to pull of home demolition and renovation projects of many kinds.
Our competitors envy the impressive portfolio we have built courtesy the myriad projects we have delivered to hundreds of happy customers. Taking down fences, removing bathrooms, kitchens, floors, drywall, and decks are what we specialize in. There's also a lot more we do. The variety in the services we offer makes sure that we are able to meet all your home modification needs. Your needs may be unique. That doesn't worry us since we offer customized services as well. We indeed are a one-stop-shop for all your home modification requirements. Naturally, therefore, we are counted as one of the leading demolition services in Saint-Jérôme.
We take every project, big or small very seriously. It has helped us establish ourselves as reliable handyman contractors in Saint-Jérôme. There are other reasons as well why our customers trust us. We offer our potential customers free estimates so they can judge if our offer is good enough. Moreover, we have always delivered our projects on time making sure that there are no cost overruns. We have never exceeded our customers' budgets. Also, the rates we have offered have always been very reasonable.
We have always strived hard to maintain superior quality in every project of ours. Therefore, we have never been found wanting when it comes to meeting customer expectations. It has given us a customer satisfaction record we are proud of. We go all out to ensure that you, the customer are happy with our performance. It has given us a large customer base not just in Saint-Jérôme, but one that spreads through the length and breadth of Canada. No wonder we are counted as one of the leading demolition companies in Saint-Jérôme.
You need to put experts on the job when you're looking to give your home a facelift. Factors like the project size, your needs, and the contractor's experience come into the picture when you pick a contractor. Demo Prep Montreal has never failed to deliver on its commitments. Our team of skilled experts has delivered superior projects year after year.
We are deeply committed to your safety. Therefore, we are very particular about sticking to all the stipulations laid down by the authorities. You can say goodbye to all your worries once we have started working on your project. Just sit back and enjoy watching the efficiency we work with. Do reach out to us on 514-613-8344 any time so we can give you a free consultation.
Send us an email by entering your details and any comments you may have in the form.