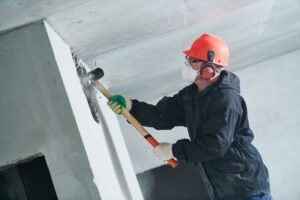 If you're looking to give your house a facelift, you've got to overcome the very tough challenge of locating a capable demolition company in Saint-Laurent. We understand, you feel like tearing your hair what with the city being crowded with so many of such companies.
We at Demo Prep Montreal are the solution to all your woes. We are the leading demolition contractors in Saint-Laurent who have it in us to meet your expectations. We possess years of experience and it's this wealth of experience that has given us the skills necessary to maintain a very high standard of craftsmanship in our work. We are confident when we say that your search for a capable demolition company has ended with us, Demo Prep Montreal.
We have delivered projects of various kinds over the years. It has given us a very impressive portfolio that we are truly proud of. We take down fences and we also carry out bathroom, kitchen, floor, drywall, and deck removals. There's a lot more as well that we bring to the table. Your needs may be unique. However, the sheer variety in the projects we have delivered makes sure that we are able to meet them. Besides, we offer customized services as well. You find all your home modification needs with us under one roof. That makes us one of the most prominent demolition services in Saint-Laurent.
Our customers have always trusted us. It's because we take even the smallest of projects seriously. Moreover, we have always been very reasonable with the rates we quote. We also offer free estimates before the contract is signed. It helps potential customers decide whether our quotation is good enough. Moreover, our timely delivery of projects has ensured that we never make any cost overruns. Not once have we exceeded the budgets fixed by our customers. We have therefore earned our reputation as reliable handyman contractors in Saint-Laurent.
Everyone has been impressed by the superior quality of our work. We have not only met customer expectations, but exceeded them. Therefore, when it comes to customer satisfaction, we are second to none. It has helped us build a large base of customers loyal to us not just in Saint-Laurent, but all of Canada. It has established us firmly as one of the leading demolition companies in Saint-Laurent. When we deliver your project, you are sure to be impressed. You'll be glad that you chose us.
The project size, the contractor's experience, and the needs you have are factors to take note of when looking for a contractor. You need those who're experts at the job. Demo Prep Montreal meets all the parameters of a capable demolition company. We are therefore a natural choice when you are demolishing or renovating your home.
We remain deeply committed to your safety. Hence, we are very strict when it comes to following all rules laid down by the authorities. Once we start working on your project, just sit back and relax as we get cracking. We assure you, we won't disappoint you. Call us on 514-613-8344 for a free consultation whenever convenient.
Send us an email by entering your details and any comments you may have in the form.