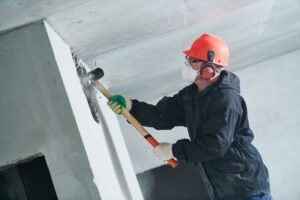 Now that you've decided to make modifications to your home, you've got to deal with the highly troublesome task of locating a capable demolition company in Saint-Lazare. The city's teeming with such companies and you can never be sure if the one you choose can meet your expectations.
When you choose us, Demo Prep Montreal, you can be sure that you now have one of the leading demolition contractors in Saint-Lazare working on your project. We have gained years of experience in the industry. It has helped us pick up the skills and expertise needed to deliver excellent projects. Our superior quality of work has impressed one and all establishing us as one if Saint-Lazare's most prominent demolition companies.
We have delivered projects of various kinds and that has given us a portfolio which never fails to impress. We have taken down fences and removed bathrooms, kitchens, drywall, decks, and floors. We are also engaged in a lot of jobs of other kinds. We offer an amazing variety in services we offer. Therefore, you are sure to find what you are looking for with us. We indeed bring you all home demolition solutions under one roof. Even if your needs are unique, we won't let that deter us for we provide customized services as well. We are therefore one of the major demolition services in Saint-Lazare today.
No matter how small a project is, we shall take it seriously and work with complete dedication. It has helped us earn customer trust as reliable handyman contractors in Saint-Lazare. We are trusted by our customers for other reasons as well. The rates we quote have always been reasonable. Besides, we have never delayed delivering projects and hence, there has never been any cost overrun. We have never exceeded the budget fixed by a customer. Moreover, we offer free estimates before the agreement is signed so you can be sure that ours is a fair deal.
It has always been a priority with us to maintain superior quality. Hence, we always exceed our customers' expectations. It has ensured that we have an excellent customer satisfaction record that's second to none. We dig deep to ensure your satisfaction. No wonder that today we have a large customer base in Saint-Lazare and a large number of other cities spread across Canada. We have successfully carved out a place for ourselves as one of the top demolition companies in Saint-Lazare.
You should have capable people working for you. Take into account the contractor's experience, your project size, and your needs when choosing one. Demo Prep Montreal's team of experts possesses the necessary skills to deliver a successful job. We are the experts you've been looking for. We have consistently delivered excellent projects year after year.
Your safety means a lot to us. We make sure that all the stipulations laid down by the authorities are followed without fail.  We are the answer to every challenge you face when giving your home a facelift. Once we start work, you can just relax and admire our speed and efficiency. Dial us on 514-613-8344 for a free consultation.
Send us an email by entering your details and any comments you may have in the form.