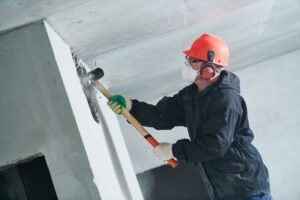 Are you looking to make modifications to your home? Well, you have a big job in your hands. You've got to locate a capable demolition company in Ville-Marie that you can trust. You've got to be sure that your expectations will be met.
Choosing Demo Prep Montreal means that you've made sure your project will be very impressive. We are sure to meet your expectations with our superior skills and craftsmanship. Yes, when you choose us, your search for leading demolition contractors in Ville-Marie has ended. You have a very capable team with years of experience working for you. We possess the expertise to successfully pull off various kinds of projects.
The variety we offer in our services has ensured that we meet every customer need. Your needs may be unique. Yet, we won't let that fluster us. We shall help you with customized service. Taking down fences, removing bathrooms, kitchens, floors, decks and drywall are what we specialize in. We do a lot of other jobs as well. It's the variety we have in the projects we have completed that has given us a very impressive portfolio. Our portfolio makes us proud and it has established us as one of the top demolition services in Ville-Marie. We indeed are your one-stop-shop for all home demolition needs.
Our customers trust us as reliable handyman contractors in Ville-Marie. It's because our rates have always been very reasonable. Besides, we have never exceeded the customer's budget by delaying projects causing him any inconvenience. With us, you can be sure that there will be no cost overruns. Moreover, we offer you a free estimate so you can be sure that our offer is a good one.
We have always maintained a high standard of work. Therefore, we have always succeeded in not just meeting customer expectations, but exceeding them. Our excellent customer satisfaction record is our pride. We leave no stone unturned to make our customers happy. We therefore have a large customer base not just in Ville-Marie, but all of Canada. Our superior quality of work has ensured that our customers are thoroughly happy with our work and we have been successful in gaining their loyalty and trust. Our happy customers have made us one of the leading demolition companies in Ville-Marie.
Those working on your home modification project have to be experts at their jobs. You've got to consider factors like your specific project needs, the size of the project, and the years of experience the contractor you are considering has. We at Demo Prep Montreal have a team of experienced experts who never fail to deliver quality work. We have always delivered what we have committed to year after year. Today, we are a name to reckon with in Canada's home demolition and renovation sector.
We take your safety very seriously and hence, we abide by every safety regulation as laid down by the authorities. Once we start work, you can simply admire our efficiency. All your worries are gone and you'll love watching your project come up, glad that you chose Demo Prep Montreal. Do call us on 514-613-8344 so we can tell you more about ourselves.
Send us an email by entering your details and any comments you may have in the form.